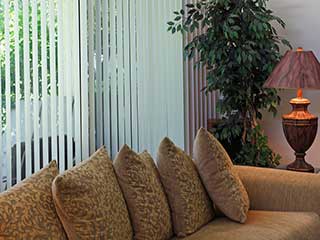 Windows much narrower than they are tall, like the kind you often find in kitchens, waiting rooms, and lounges, can be hard to cover well. Roller shades have a better chance of getting caught or tangled when they're sized for long windows, and blinds can struggle under their weight. Vertical blinds, with panels pointing upward and a sideways sliding frame, are the best way around these issues. Give Motorized Blinds Encinitas a call, and we can set you up with custom made vertical blinds for any property in the Encinitas area!
Vertical Blinds For Any Setting
Longer windows are most often found in kitchens and workplaces, but bedrooms, living rooms, and studios can also have them. Vertical blinds for office windows and living rooms go well with curtains, which share the same sliding property. Sliding doors for patios, balconies, and decks also fit the bill, especially multi-paned glass doors. Vertical blinds for patio doors and other wide entrances and exits are easy to set up. It's just a matter of putting another set of tracks next to the ones already there on your floor and ceiling.
Choose Quality Blinds Materials
Because they're supported at the top and bottom, vertical blinds can be made from a wide variety of materials without being any less stable. Most modern homeowners prefer inexpensive vinyl blinds, but Motorized Blinds Encinitas offers plenty of other options as well. For the sturdiest blinds with some old-timey classic appeal, you can have your set made from wood, or a faux-wood composite. If you're worried about moisture causing damage to your blinds, or just want a sleek, modernist look for your vertical blinds, try aluminum. Our consultants will always be glad to help you make these choices for your Encinitas property.
Motorized Vertical Blinds
Like most types of window treatments, you can have your vertical blinds automated. This is highly recommended for vertical blinds made of heavier materials, as opening them otherwise can become something of a chore. You can link our motorized vertical blinds to a wall switch or a handheld remote control unit; we provide both! For a more advanced option, we can even set you up with a programmable timer, or even a heat or sunlight sensor. Your window blinds can do their job day in and day out now, all on their own!
Vertical Blinds Installation Services In Encinitas
We've been putting vertical blinds on windows throughout city limits for years, and yours could be the next on our list. During the initial visit, our experts will measure your windows, suggest styles and materials, and give you a free estimate on production time and costs. When your blinds are ready, we'll bring them right back to you and take care of the installation ourselves. If you want extra features, like vertical blinds with curtains or one of our motorized options, we'll set those up as well.
Free Estimates On Custom Window Treatments
Call our number and arrange your preliminary free consultation appointment. Motorized Blinds Encinitas loves helping folks from all over Encinitas and nearby find the best blinds for their properties. Whether it's motorized vertical blinds for a sliding glass door or something to cover skylights or office window walls. We've got a fantastic selection of shading products to suit every need and budget. We look forward to hearing from you, and to starting work on your new set of custom made vertical blinds. Schedule a free estimate and let's start!