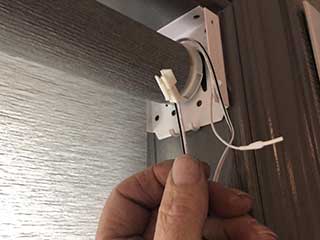 One of the easiest ways to make your home feel more cutting-edge and convenient is to invest in motorized blinds. These window treatments bring a whole host of benefits, but you may not realize quite how much they can help. Many home and business owners are familiar with how automatic coverings work, but don't appreciate the advantages they can offer in things like security and energy efficiency. Here are our top picks from the many different benefits that motorized blinds can bring you.
Make Your Home More Private

Nobody wants their neighbors or strangers peeking into their home. However, it can often slip your mind to make sure your shades are fully closed. Motorized blinds can be set on a schedule to close all over your house at the same time, so you can be certain every window is blocked from the living room to the attic. You can also set these electric blinds to open automatically for you right before, or exactly when, you come back home.

Unbeatable Modern Convenience

Control your motorized blinds from your smartphone, wherever you are. When you wake up in the morning you can let the sunlight in without even getting out of bed, or you can check that they're all closed before you go to sleep. Smartphone control and the many other clever options available to you make motorized blinds incredibly convenient. You don't even have to be home or at the office to operate them this way. So even if you don't have a timer set, and you leave for work and remember you forgot to lower your home's smart blinds, just pick up your phone and do it right then and there

Improve Home Security

How can a set of electric blinds prevent thieves from entering a home? It may not keep them from entering if they decide to venture inside, but it can deter them from picking your house in the first place. Thieves, you see, are mostly looking for unoccupied properties, and window blinds and shades that stay open 24/7 are a dead giveaway. Using automatic scheduling and timers, you can have your automatic window coverings open and close at various points throughout the day, making it seem like someone's at home even if you're actually away on vacation. That's why motorized blinds are a great way to keep thieves and burglars at bay.

Save Money On Climate Control

Light sensors and temperature controls can be used to control your blinds automatically. Yes, that's right. By themselves. Self-adjusting shades are a very popular type of smart window treatments that many home and business owners seem to opt for. This clever system will open the blinds when the sun's shining and you want your home to warm up, saving you money on heating costs. When it gets dark, it will automatically close them, helping you more easily maintain a cozy indoor environment.

Battery Powered and Hardwired Blinds

You can have your new motorized window treatments connect directly to your electrical system, or alternatively, you can have them operate via an independent battery. Whichever you choose, the benefits that automatic blinds can bring to your home are well worth the investment. Be sure to get in touch with the team at Motorized Blinds Encinitas today to learn more via a free consultation appointment at your home or office.