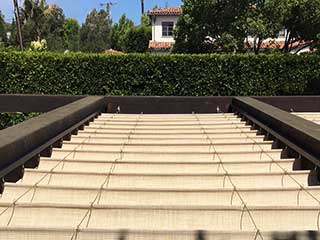 Raindrops keep falling on your head? Well, even if not so much, how about unpleasantly harsh sunlight? Having a patio or outdoor sitting area lets you enjoy the outdoors in good weather, but without some coverings their use is limited. Luckily, our custom-made canopy tents and motorized patio shades are available to the Encinitas area at affordable prices. If an immovable roof is too oppressive for your tastes, give these adjustable patio shades a try! You can add outdoor canopies to decks, gazebos, and even pergolas. With motorized canopies, you can add shade to any outdoor lounge with the push of a button. Protect yourself from harsh sunlight and weather with new custom made patio covers for pools, backyards, gardens, and more!
Hanging Patio Covers And Awnings
If you're thinking about motorized patio shades for your Encinitas property, the overhanging style is the easiest to install for building-hugging outdoor spaces and storefronts. Motorized awnings wither roll out along a stationary frame, or use a pair of folding robot arms to withdraw without a trace. This style of outdoor shading is good for any long, narrow space along the side of an existing structure. Use our free consultation service to get motorized awnings tailored to your property! You can stretch these patio covers over corners and other tough to deal with spots. Motorized awnings make it easy to prevent annoying sunlight glare right at eye level.
Sail Shades And Large Roller Patio Covers
Maybe you need cover for a space that sticks further out from the side of a building. If so, sail shades might be your solution. Rather than hanging on a frame, sail shades hold themselves taut between individual attachment points. Larger, motorized patio shades of this kind usually have cables for rollers to move along, and pull themselves taut from a few poles or pylons. Manual sail shades have hook or rope attachments that you can rig up to almost anything. You can even choose to get these coverings in different colors. Want to feel like a pirate ship captain? With dark sail shades, you can create a unique aesthetic that offers functional shading solutions to your Encinitas patio.
Freestanding Patio Shades And Canopy Tents
If you have a space to cover that isn't near your house or business, you'll need supports. The low-tech option would be to set up one of our canopy tents. These pop-up canopies are more or less like large tents that you raise on semi-permanent frames. Most canopy tents have a covered top and one or two covered sides, but fully enclosed units are also available for fully weatherproof garden parties! If you want something smaller and less labor-intensive, you can also look at our folding freestanding patio shades. These deployable canopies take up minimal space when you don't need them, and can be manually operated or motorized.
Should You Get Motorized Patio Covers?
That brings us to the big question that's been hanging over this conversation: motorized patio shades, or manual ones? How much physical work you're willing to put in is only part of the question. Another is whether you'll want to adjust your shades when you aren't physically there. Motorized patio covers with sensors or internet connections let you control them from elsewhere, or even just control themselves! Plenty of benefits come with remote control patio covers. From different smart controls and convenience settings to alternating shading aesthetics, motorized patio covers provide all sorts of design choices. Thinking about getting new shades for a patio? Our professionals can help you pick and choose every aspect of these outdoor coverings to suit your precise needs.
Cheapest Patio Shades In Encinitas
We provide outdoor canopies and covers for porches, patios, courtyards, and just about any other outdoor lounge you might want to protect. Our experts will consult you, completely free, and make their recommendations for what type of outdoor shades you should try. The freedom to use your backyard or garden at all no matter how the weather feels about it is completely worth it. Get the best price on patio covers for Encinitas residences or business properties by calling us to book a free estimate!