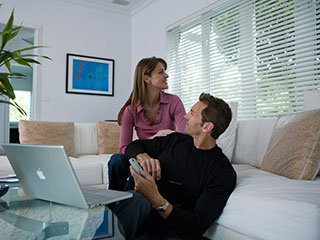 A great way to improve aesthetics in different rooms is with new window blinds. Motorized solutions offer you more than just a new look. Somfy motorized blinds provide a great way to combine both décor and remote control functionality for the optimal best of both worlds. You can dim the lights, control window coverings remotely, and even set schedules for your Somfy blinds to work by. Motorized window treatments offer the best solutions nowadays, with lots of effective features and energy-efficient benefits. For the Encinitas area, Somfy motorized blinds have become very affordable, thanks to our custom made coverings! You can find out more about the different designs and features with a free in-person estimate at your office or residence.
Silent Motorized Window Blinds
In the past, blinds and window shutters that used motors were quite loud and droning. And slow too. You could wake up the entire household waiting for the roller shutters to lift over your sliding patio door. Well, not anymore. With motorized Somfy blinds, you get quiet and fast-moving window treatments that will maintain the soft and pleasant ambiance at all times. The quiet motors of Somfy blinds will not intrude on still morning ambiance. In fact, with certain features, you can even use them to wake yourself up in the morning instead of resorting to a loud alarm. Blackout Somfy blinds in your Encinitas bedroom can wake you up with soft sunshine instead of a hard, startling blare.
Automatic Window Coverings
No more need to have to tell your blinds what to do. With changeable parameters, you can set special sensors for temperature and brightness, and your Somfy motorized blinds will work for you. Literally. Make the most of natural lighting with these features and you'll always maximize the best energy efficiency while using your motorized window blinds for climate control and glare reduction. Somfy blinds offer customers the best solutions for maximum utility, with advanced technological remote control features ensuring your utmost convenience at all times. These Somfy control features offer Encinitas motorized window blinds buyers the best advanced remote control technology of the modern age. And with the beautiful design collections available to you, elegance and subtle aesthetics are also part of the deal.
I Want Smart Somfy Blinds For My Encinitas Windows!
Of course, you do. And we'd love to install them for you! So go ahead and schedule your free estimate and talk to our local décor and blinds experts for a full consultation on any designs and features you want. We offer custom made Somfy motorized window blinds to Encinitas and other nearby areas. So you can get these wireless motorized window treatments installed in any local home, apartment, office, or other. Call and book your appointment today to learn more!