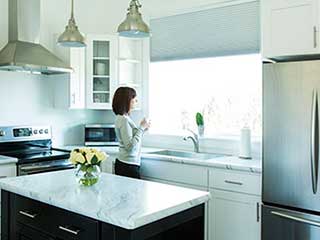 For a window treatment option that is easy to maintain, comes in a variety of styles and is versatile for many situations, roller shades are a great choice. They are loved by many and perhaps known mostly for their discreet nature when rolled up, leaving your view totally unobstructed.
Blackout Option Available
Sometimes when the sun is up, you don't always want to be up with it. A great option is getting a blackout version of roller shades to cover your windows. They provide 100% light blocking, ensuring you won't be bothered by that pesky sunlight beaming in at you while you're trying to sleep! With different decorative and fabric materials to choose from as well, you're sure to find something that you'll love.
Low-Profile Appearance
A great advantage to choosing roller shades is their ability to disappear from view when rolled up. This is a great feature to have if you have a lovely view outside your window that you like to admire, but also need to have it covered at certain times of day. You can choose to have a cassette valance, metal fascia, open roll or reverse roll depending on your personal preference. Whatever you choose you can be sure that you will have that low-profile look allowing maximum view of the outside!
Easier To Maintain
The simplicity of the appearance and design of roller shades makes them easier to clean then some more mechanical options. They attract much less dirt and dust then blinds would since there is only one solid piece and not a bunch of individual slats that make it up. Also, the moving parts are less likely to need repairs because they are safely located inside the headrail, making them a great all around option!
Never Too Late To Call
The next time you are thinking about getting roller shades make Motorized Blinds Encinitas your first choice! With free consultations and color samples, finding what you need should be a breeze. Contact us by phone or online today and see for yourself, our team is always ready to lend a helping hand.