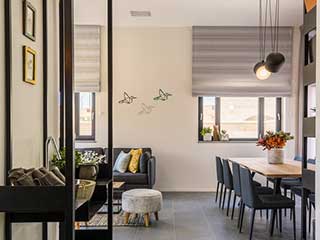 With warmth and sunshine just around the corner, it's time to start thinking about clearing away those winter blues. Whether you're clearing out the dust and clutter of winter or planning a full-on redecoration project, one key aspect you'll need to consider is how you make use of natural light. Custom made blinds and shades are a great way to do that and to add a little décor to the interior of your home and business.
How Important Is Natural Light?
Sunlight is essential for creating a sense of space and airiness in any home. It can turn a room from dingy and dull to bright and welcoming, and it doesn't take a lot of effort. The right choice of window coverings is key, because you need to strike a balance between minimizing glare and maximizing natural lighting. You also need to consider UV protection, to avoid prolonged exposure to unfiltered sunlight. With the right shades, you'll have no trouble doing that. Some people, who want a lot of versatility, often opt for sheer shades with vanes. These make for a combination between a regular covering and the slated structure of blinds.
Controlling Light With Window Shades
There are plenty of different styles of window coverings you can make use of. Sheer roller shades are a great and simple way to diffuse light as it enters the room, providing a soft and even glow, while filtering out harmful UV rays and reducing the sun's glare. On the other hand, you might choose vinyl or aluminum blinds - these offer more control over the light you let in, without compromising on privacy. Their materials require very little maintenance, and come in all sorts of colors and designs. In either case, it's important to carefully consider the different pros and cons to ensure you make the best decision for your taste and needs.
Choosing The Right Window Coverings
Many different materials are available, from aluminum and real wood to a wide range of sheer and opaque fabrics. This gives you the flexibility to mix and match different styles to suit your home's decor. For example, you might choose light bamboo shades for your kitchen; these are a great way to cut out glare while offering a low-profile installation and an eco-friendly design. In your studio, though, you may opt for a set of faux wood blinds, which provide a lot of control over natural light while also looking very beautiful, without the extra maintenance real wood needs.
How Motorized Blinds Encinitas Can Help
The best way to make a decision is by first considering all the available options. Rather than trying to picture how a given unit will look in your home, why not schedule a free consultation with one of our representatives? They'll be able to provide the high-quality guidance you need to find the perfect new coverings for your home.