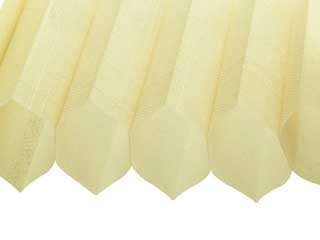 Did you know that your window coverings can actually help you save money? That's right. Cellular shades are especially great at reducing heat transfer and thus helping your HVAC system to maintain your desired indoor temperature more easily. Apart from thermal efficiency, these shades can also provide UV protection and light filtering options same as their non-cellular counterparts.
Why Are Cellular Shades So Effective?
The cellular structure of these shades allows them to turn the window into a buffer between the interior and exterior of the room. These "air traps" prevent heat from escaping outside during winter, and block it from infiltrating the room during the hot summer months. This usually requires for the shades to be fully drawn, which, when made from sheer material, doesn't mean you have to give up natural lighting.
Different Light Filtering Options
You have your choice of materials when it comes to cellular shades, and the type you choose will determine how much privacy they'll provide. Light diffusing fabric will offer you UV protection while also letting filtered sunlight through to illuminate the room. Thicker and more opaque material will create a more private setting when the shades are drawn, and will also keep the room from overheating. For bedrooms, blackout cellular shades are often preferred, while for living rooms and kitchens a more sheer variety is often more popular.
What About Motorized Cellular Shades?
What about them? They're fantastic. Rather than controlling the window coverings manually and having to adjust them from close in person, you'll be able to use a remote, your smartphone, or even your voice. Yep, you read that right. By integrating these window coverings with your smart home system, you'll be able to issue voice commands to your Google Home/Alexa/another virtual assistant. Now that's innovation!
Schedule a Free Consultation Today
For more information about the custom made cellular shades our team offers contact us and have a local expert introduce you to the wide range of customizable options available today. Motorized Blinds Encinitas is here to assist with all your window treatment needs, whether for your home or for your commercial establishment.