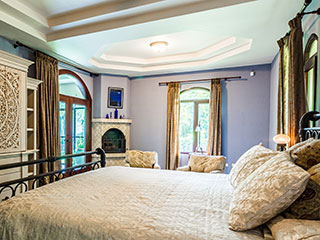 Controlling how much sunlight enters through the windows helps you dictate the indoor climate and utilize natural lighting for various purposes. However, sometimes you want there to be no light inside. Well, blackout curtains help with that. These room darkening window curtains block sunlight completely. That means they can darken the room entirely, making them perfect for Encinitas bedroom windows as well as various offices. Blackout window curtains offer a cheap solution for covering windows in all sorts of rooms. You can get them custom made to ensure complete coverage for large windows too.
Bedroom Blackout Curtains
For ensuring you get the best sleep possible, you need to cover the windows with opaque materials. The thick fabric of blackout curtains provides a buffer for the sunlight that ensures you don't have to wake up super early just because some stray rays streamed inside. Sleep is so important for many different reasons. So you need to make sure you get an adequate amount of it each day. With custom made blackout curtains installed on your bedroom windows, you can optimize sleep day in, day out. Window curtains with room darkening fabrics create the darkness needed to facilitate REM sleep. You can say goodbye to morning grogginess and irritability with a good night's sleep. And blackout window curtains are here to help with that.
Motorized Window Curtains For Encinitas and Nearby
Besides the obvious brushing aside the curtains to expose the window, you've got a much better and faster option. Motorized curtains for bedrooms, offices, living rooms, or other spaces provide an easy and simple solution for efficiency and convenience. Motorized blackout curtains in your bedroom save you from having to get up to draw the coverings if you forgot. A quick push on the remote control button and your motorized curtains will draw themselves. Motorized drapery can also help you save money. With blackout curtains, motorized, you can better regulate indoor temperature. Perfect for all sorts of uses, motorized draperies offer an affordable, high-tech covering solution for any need.
Enjoy TV With Blackout Living Room Curtains
You can transform your small living room into a big movie theater with a set of blackout curtains on the windows. The ability to create total darkness can help immerse you in the TV watching experience. Whether it's a scary movie or just a favorite show, blackout window curtains help create an engrossing atmosphere. For Encinitas living room curtains, blackout fabric provides an excellent choice. You can add privacy to the area while also benefiting from the room darkening qualities. Your living room window curtains need to keep the glare off the TV screen too. Sunlight hitting your eyes makes it annoying, and also quite bad for your eyes. With blackout curtains on living room windows, you don't have to worry about glare.
Made-to-Measure Curtains – Free Estimates
We make window coverings and draperies in all sorts of shapes and sizes, and various designs too. Consult with our interior design experts to find blackout curtains for any Encinitas area property, whether it's a business or a home. Choose the aesthetic you want and we'll send the orders to our US-based manufacturer to craft the new window curtains in custom size & design. Call anytime to schedule a no-obligation free estimate on curtains, drapes, and more!