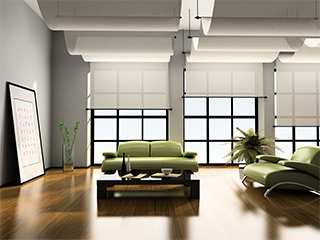 This style of shades has been faithfully serving people since, you guessed it, Roman times! While they're no longer used to keep dirt from getting kicked up into the home, their benefits and style still make them a great choice for rooms you want to spruce up with a new and interesting look.
Excellent For Dining Rooms And More
Roman shades have a distinctive and majestic aesthetic to them that most other styles can't match, making them a must for any room that you're looking to give a sense of beauty and elegance. Rather than simply roll up, these fabric shades instead create decadent folds as they rise upward. Areas such as the dining room, sitting room, and any other space that you'd like to give an exquisite air would be great choices for this type of shades.
Customizable For Your Needs
With help from our free consultation and color samples, you'll have no problem matching your Roman shades to the colors already present in the room. From a deep crimson to a royal blue, you can pick the right color, texture, and pattern of fabric that will best complement the room. You'll be able to rest assured that with our years of experience our experts will ensure that your shades enhance the area to be stylish and lovely to behold.
A Timeless Classic
As we all know from fashion, things don't always remain in style. However, you won't need to worry about this with Roman shades! This type of window covering brings an utterly classic look to your home that's bound to last, considering it's already withstood the test of centuries! Roman shades also bring a softer quality to your windows unlike some other stark and sharp window coverings, making the area overall feel comfortable and inviting.
Why Wait When You Can Call?
You deserve the best that window coverings have to offer, and our professionals are here to help you with that! Contact Motorized Blinds Encinitas today to find out more about Roman shades or to get an appointment scheduled. You'll have beautiful new shades in no time!