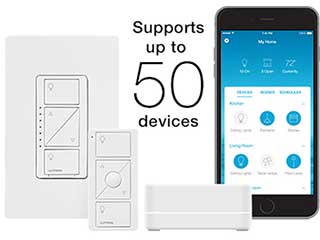 If you want the benefits of modern technology with your window shading solution, Lutron is the manufacturer for you! We pride ourselves on window shades that mix style and elegance with practical utility, and on designing the perfect unit for each and every customer. The aesthetic choices we offer to Encinitas home and business owners are almost too long to list. Elegant Roman shades, protective blackout shades, and versatile sheer shades are just the top of the list! Style isn't the only area in which you have options to pick from, though. Lutron motorized shades are compatible with Bluetooth, Wi-Fi controls, and smart home assistants or cell phone apps. You can still get your old-fashioned remote handsets and wall consoles, but these smart control systems make life more convenient, and potentially cheaper! Call us today and just ask what we can do for you.
Why Smart Lutron Shade Controls?
Smart shades might sound like a frivolity, but in fact, they can save you money in the long run! Almost a third of a building's heating and cooling happens through its window panes, either from sunlight penetration or glass convection. Some protective shades or blinds can massively reduce this, but you need to adjust them to the time of day and weather conditions. For people with better places to be all day, motorized smart blinds are the way to do this. Lutron's smart blinds save you on air conditioning and heating costs, prevent sun bleaching to furniture, and keep out prying eyes, even when you're not there.
Made-to-Size Motorized Window Coverings – Styles And Substances
Our Encinitas motorized shades projects always start with a free consultation visit. Aside from giving you an estimate, we also help you choose exactly which style, color, and materials you want for your shading solutions. Solar fabrics keep out the harsher rays while letting in softer sunlight. With layered or banded shades, you can get the benefits of solar shades and blackout shades in one system! Sheer shades overlaying some rigid slats give similar benefits. If the style is your main concern, there's not much that beats Roman shades or ornate draperies with Lutron's silent motorized operators hooked up.
Encinitas Lutron Shades – Get Them Custom Made!
Choosing new shading solutions, motorized or not, is something that can greatly affect the interior décor. With advice from the leading Lutron motorized shade experts near Encinitas, you can find aesthetic choices that offer the best functionality for your needs. Get custom made motorized shades installed with all the Lutron control systems and special features you want. How? By calling and scheduling a completely free estimate on motorized shading solutions for any local property.