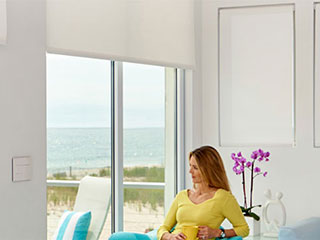 The benefits of automatic window blinds give them a great deal of popularity in Encinitas and all surrounding parts of the greater San Diego area. With the push of a button, you can control window blinds and make them expose or cover the area they protect. This helps you control indoor climate better, as well as make full use of natural lighting and improve privacy. For bedrooms, gyms, office spaces, and all sorts of other spaces, motorized window blinds provide one of the best covering solutions out there.
Smart Motorized Window Blinds Features
The most obvious control method for automatic window coverings is the remote. However, you can have your motorized blinds work for you. Choose to get the timer feature or a schedule settings system, and you can set when the motorized blinds rise and lower each day. This automation of motorized window blinds makes them effective energy saving solutions for covering windows, glass doors, and skylights even. You can have your motorized blinds wake you up in the morning with sunlight, as opposed to a loud and annoying alarm clock. Got into bed at night and forgot to close the blinds? Not to worry. You can use the remote, or have a setting for the motorized blinds to close after a certain hour.
Types Of Motorized Window Treatments
Another excellent aspect of motorized window coverings is the vast range of options for designs and types. In today's day and age, most types of window blinds can be motorized to work with smart remotes like Somfy controls and similar options. Motorized blackout blinds can add a lot to your Encinitas bedroom, for example. Get remote controlled vertical blinds for window walls in your office and create that classic 80s vibe. Even softer window covering options can utilize motorization. Roman shades, with their beautiful elegance, can use motors to fold and unfurl at the push of a button. A simple set of motorized roller shades can add sunlight diffusing covers to the window. Thus, they eliminate glare off computer screens within seconds.
Why Choose Custom Made Motorized Blinds
Whether for privacy, sleeping conditions, or anything else, it's always good to get new window coverings custom made-to-measure. Leaving gaps between the cover and the window frame only creates an annoying issue to deal with. Sunlight peering through the coverless section can create annoying glare and will cause wallpaper to fade and lose color if exposed on a daily basis. Getting custom made motorized blinds for your Encinitas windows carries the same benefit as with manual versions. You ensure that when you want to cover the surface area in question, you do so completely. No minor gaps for sunlight or for lack of privacy. Motorized blinds bring with them the added benefit of remote control convenience and smooth and fast operation.
Your Encinitas Source For Motorized Window Coverings
Instead of wondering, consult with the experts! Our local technicians can provide you with all the information and details you'd like. Our free estimates include measuring the windows and showing you all sorts of color and design samples for any type of motorized blinds or other window coverings you're curious about. Get a quote on electric blinds for your windows, skylights, doors, or other surface areas by scheduling a free consultation. Talk to the top motorized blinds installers near you for the best quality at the cheapest costs.