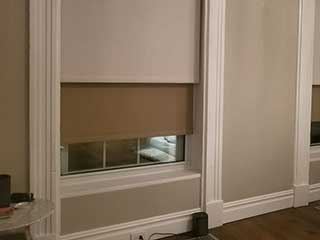 Our low prices on custom room darkening window treatments are one of the reasons why we're the best blackout blinds provider in Encinitas. For residential and commercial applications, Motorized Blinds Encinitas provides an enormous range of high-quality shading products, all at a low price range. Custom blackout blinds can suit any number of different purposes and can provide you with lots of benefits at your home or business. Choose Motorized Blinds Encinitas for your new blackout blinds, and we'll give you top-quality service at an amazingly low price. With a free estimate (at your home/office) you'll have all the info you need to choose the best blackout blinds that fit your property.
Cheap Commercial Blinds – Blackout and Room Darkening
Blackout blinds for office windows cut down on the amount of glare your workplace receives. This, in turn, means your staff suffers less from eye strain and is less likely to get headaches at work. If you want to improve productivity, then our range of made-to-measure blackout blinds can offer you a lot of options. In addition to making your office more comfortable, these window coverings also look fantastic. You'll get the sleek modern design that's sure to impress customers, all at a low price. Find out how little it could cost to enhance your workplace today by setting up a free no-obligation consultation from our Encinitas blackout blinds experts.
Blackout Blinds For The Bedroom
We provide high-quality blackout blinds that can fit any part of your home. But some parts benefit from these window treatments more than others. Choosing to get blackout blinds installed on bedroom windows, for example, will give you privacy and also the option to sleep without interruptions. We can go further, in fact, and provide motorized blackout blinds that give you easy control over natural light levels throughout the home. A simple tap on your smartphone can be all it takes to cut out pesky sunlight, or prevent neighbors looking in. Our fantastic range of colors, designs, and materials also means your new blinds will look amazing. No matter what your home's internal decor looks like, you can get a blackout shading solution to go with it. See real samples today by setting up an in-home consultation anywhere in the Encinitas area.
Full Selection Of Blackout Blinds
There's no limit to what you can achieve with our help. Our expertise lets us craft made-to-measure blackout blinds to suit any window of any size. For example, if you're looking to provide protection from overhead sun, we offer blackout blinds for skylights. These are easy to use and give you the coverage you need to feel comfortable at home. In your living room, you might have a large set of French doors. Well, these are ideal for flooding your home with natural light, but what about when you need to keep it out? Our custom-made French door blackout blinds give you the solution. All of these products are created especially for you, with your custom input and design choices.
Get Custom Room Darkening Blinds Made
The perfect window coverings aren't hard to find. It all starts with our in-depth design process. Want to get custom made blackout blinds for your windows, skylights or glass doors? Then you should get in contact with our team to schedule a free, no-obligation consultation appointment on blackout blinds at any address nearby Encinitas. We offer homes and commercial businesses the perfect opportunity to see our wide range of products and ask any questions you may have. Get a free quote, customize your selection, and your new blackout blinds will be ready in no time.